Learn Online, Live Classes with Professional Native Teachers to Achieve IELTS 7.5
Even if you don't need to take the IELTS exam, you can still learn. Let's enhance your English language skills for the long term, using one of the world's best exams as a guideline – IELTS. Or, if you aspire to achieve a high IELTS band score, Online IELTS is perfect for you. Study comfortably from home, with live classes conducted by Professional Native Teachers who possess in-depth knowledge and full techniques, just like learning at an institution.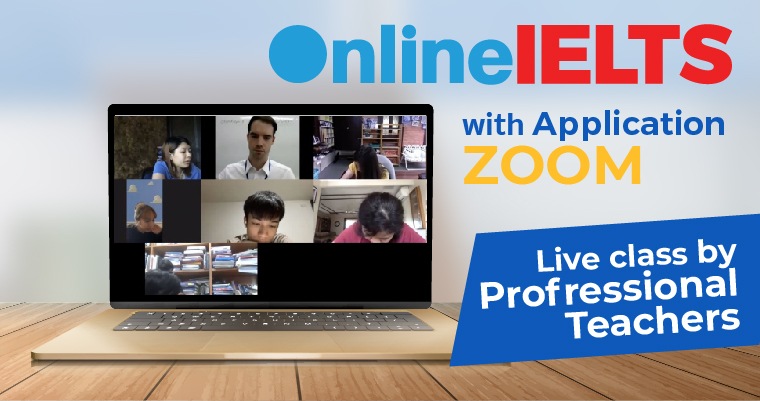 Learn Online IELTS, Live Classes via ZOOM, a widely-used application by leading universities worldwide for remote teaching, ensuring the same intensive and interactive teaching experience as before. You can engage in real-time discussions with teachers and classmates, unlike traditional video-only learning. Additionally, you can complete practice exercises and skill-enhancing activities, simulating an institution-like learning environment.
New Cambridge, the top choice for IELTS, guarantees results of 6.5*-7.5* for 95% of students.* Our Online IELTS course, taught by Professional Native Teachers, offers enjoyable and easily comprehensible lessons, catering to every student's needs. Accessible from anywhere, all you need is an internet connection. Instant interaction with teachers and peers is possible. Our rigorous curriculum covers all skills, totaling up to 50 full hours (not just 50-minute sessions). We also provide self-practice skill-enhancing activities outside of the class.
*Conditions are as specified by the institute.