Self Access Centre

Listening Lab

Practice listening skills anywhere for unlimited hours.
Free clubs, extra activities and classes outside learning hours, in-class teaching every lesson
Writing Club

Increase your writing scores with better writing skills, and perfect your writing with practice.

Speaking Club

Improve your confidence and skills in English speaking before the actual test.

Bonus Tutorial

One-on-one sessions with professional teachers on areas that require improvement.
Listening Club

Practice listening skills with native speakers and qualified IELTS teachers.

Reading Club

Polish your reading skills, and broaden your understanding of the English language.
*Conditions as specified by the institute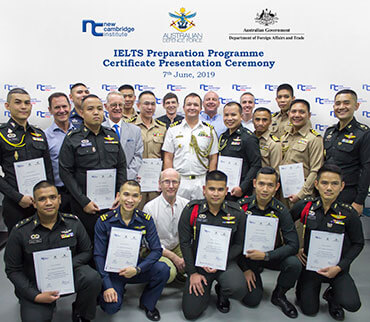 Mr. Terry Bell, Director of New Cambridge Institute (Thailand), congratulated participants from the Royal Thai Armed Forces for completing the IELTS preparation program on June 19th, 2019.